This is a sponsored post written by me on behalf of Purina®. All opinions are 100% mine.
I'm a fit mom that tries to get my entire family involved in activities to keep them active. We ride bikes, play kickball, walk to the park, swim, dance on the Wii and so much more. But living a healthy lifestyle is much more than staying active. It is about eating well too, not a simple task for one of my children that is extremely picky.
Staying active and healthy is a family affair which includes my four pets. I have three cats and a puppy that need nutritious meals as well as exercise so they do not get overweight.
All of my cats are indoor cats, so keeping them active has always been a concern. My oldest cat Callie, age 8, is already on a diet and we just switched to a healthy cat food. We play with the laser light, toy mice and encourage use of the scratching posts.
Bella, my puppy is only 6 months old, but we make sure to get out every single day for a walk, run and play at the dog park and play constantly with toys such as fetch and tug-of-war. She never eats people food, only enjoys homemade dog treats and eats healthy puppy food.
All four of my pets also get proper vaccines, regular pet visits and socialization. We do it for our children, why not our pets? It is essential to their overall health, remember a happy pet is a healthy pet!
Our furry friends need to stay active to be fully happy and we as parents need to encourage that. That's why I'm taking the Paws4Life Pledge hosted by Purina® and Sam's Club.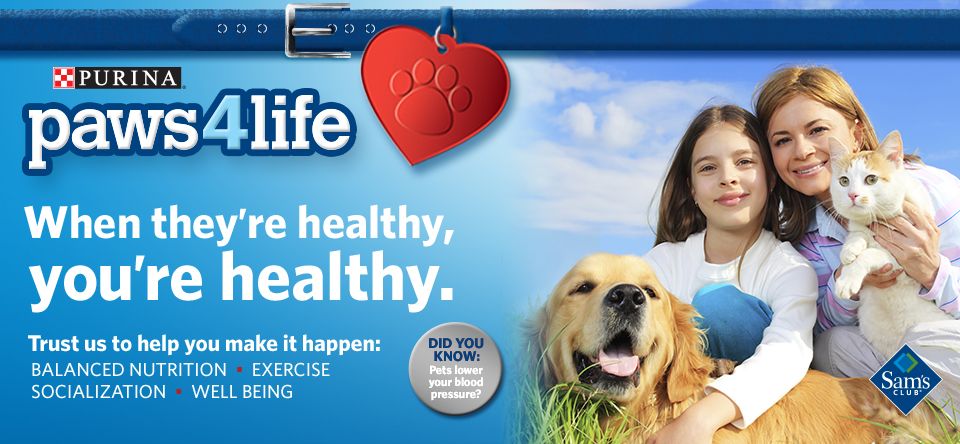 I am pledging to live a healthier lifestyle along with my pet. We are starting this journey together, and you can too.
Simply visit the Paws4Life pledge page and get moving with your pets. That is your responsibility to your four legged babies, they need YOU to encourage that by providing exercise in a variety of fun ways.
Don't forget to purchase your Purina products at Sam's Club to save money!
How do you stay active with your pets?