This shop has been compensated by Collective Bias, Inc. and its advertiser. All opinions are mine alone. #TryTENAMEN #CollectiveBias
Last year my Mother-in-law became the caregiver for my Father-in-law when he had to undergo surgery for Prostate Cancer.
One of the unfortunate side effects of the surgery was the incontinence which is common after this surgery. For women, we are used to wearing products, however, for a man, this may be a totally new journey for them.  For many men, this is a huge lifestyle change for them.
Watching my Father-in-law go through this made me start thinking about what gift idea I could always have in mind when we find out that other friends/relatives are going through the same thing.  At first I thought of the basic everyday type of gift, but then I started to think about the gift from a caregivers stand point.
I started a list with these questions to figure out what I would put into a caregiver basket:
What would help make them feel more comfortable?
What items do I like when I'm not feeling well?
What items could be taken with them if they had to have chemo/radiation or long drives to doctor appointments?
With the help of CVS and TENA® MEN™ Protective Shield, I came up with this caregiver basket idea: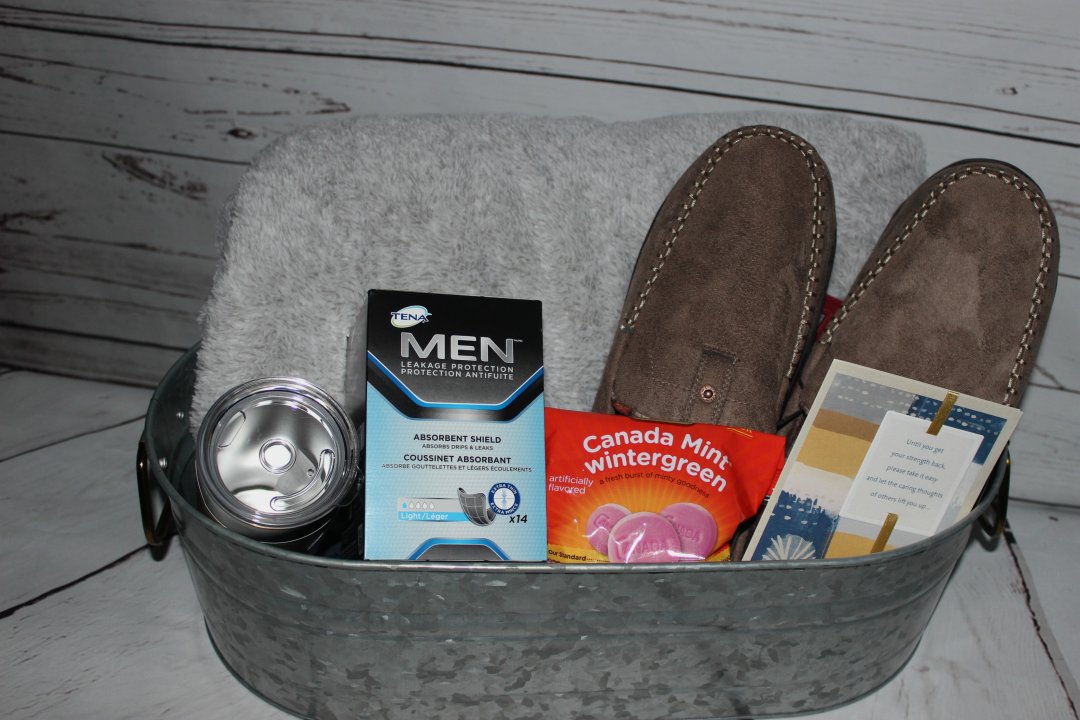 *You can purchase the TENA® MEN™ Incontinence Shields for Men, Very Light Absorbency, 14 CT by hovering over the image above!!
Putting together a caregiver basket for men can be a little confusing, however, it's really easier then you think.  In our basket, we included the following items:
An oval tub instead of a wicker basket, why not a stainless steel tub that they can use afterwards for storage, an ice chest for beverages, or however else they want to use it for. Plus the tub seems a little more manly.
A warm and cozy blanket for those days when they are home recuperating, in those long drives to the doctor, or when they are just at home relaxing.
A pair of snuggy slippers so they don't have to mess around trying to get their shoes on and their feet stay home.
A travel beverage mug so they can stay hydrated with their favorite beverage.
Wintergreen mints just because
A get well card
I know this experience really affected my Father-in-law as it may your loved ones.  Below are some great tips to help encourage them while they are going through this.
Remember that you are not alone. An estimated 3.4 million men experience the Unexpected Leak™.
TENA® MEN™ Protective Shield is ultra-thin, secure with a cup shape that follows the male anatomy for a secure fit that provides light protection.
They are designed with an ultra thin thickness for comfort and a muted color for discretion, this product will protect against light drips and dribbles while letting you remain comfortable and secure.
You can find the TENA® MEN™ Incontinence Shields for Men, Very Light Absorbency, 14 CT at your local CVS stores.


They are:
Anatomically designed for men
Ultra absorbent core for dryness and effective leakage protection
Soft, cloth-like outer cover provides comfort and discretion
Advanced odor protection
Adhesive strips for added security
Length = 7"
And during the week of 10/22/2017, you can Buy 1 TENA product at CVS, Get 1 @ 50 % OFF
Valid In-Store & Online
You can easily find TENA® MEN™ products at CVS in the Bladder Control aisle.